Raw hair is 100% unprocessed hair that has not undergone any kind of chemical or steam processing. Most of the buyers prefer raw hairs because of the natural look, the beautiful luster and textures. Maintenance plays a vital role when it comes to Raw Indian hair since the durability is purely based on how we maintain the hair. Here we have come up with some raw virgin hair care tips.
Washing
It is important to co-wash the single donor raw hair before installing and to wash it every week after installing it. However, this may not be a mandatory step for other hair Categories. It is foremost when it comes to raw hair, and let me tell you why.
When the hair is collected from the temples, it is washed and air-dried. The word to be highlighted here is AIR DRIED. You may ask "Why not blow dry it as always?". The easy answer to this is that applying any type of heat to the hair, slowly reduces the durability as the hair loses its strength when we put in more heat on it.
And now, since air drying consumes more time, it may have gathered some dust during this process hence why you must give it a good wash once you receive it, and every week thereafter. This will help get rid of sweat and the oil from your head that has spread over the hair extensions.
We recommend that you use natural shampoo and conditioner to avoid slow damage.

Spa and Conditioning
It's important to perform deep conditioning the virgin Indian hair during every wash. Ensure to use lukewarm water always to thoroughly rinse your raw Indian hair. Apply conditioner in wet hair and gently comb it till the conditioner is saturated. Leave it overnight and rinse the raw hair well with sulfate or alcohol-free shampoo. Make sure to use the best quality shampoo and conditioner.

Keep it Moisturized
Our Skin and Hair need to be moisturized often to control dryness. Especially it is essential to keep your hair extensions moisturized because once the hair is tonsured or cut from the head it loses its natural nutrients. So we have to externally give it some proteins and vitamins. The best way to control the fizz is to apply hair serum. Here are some benefits of applying hair serums frequently.
Boosts Smoothness
Reduces Tangles
Retains the Shine
Enhances the texture and luster
Protects against damage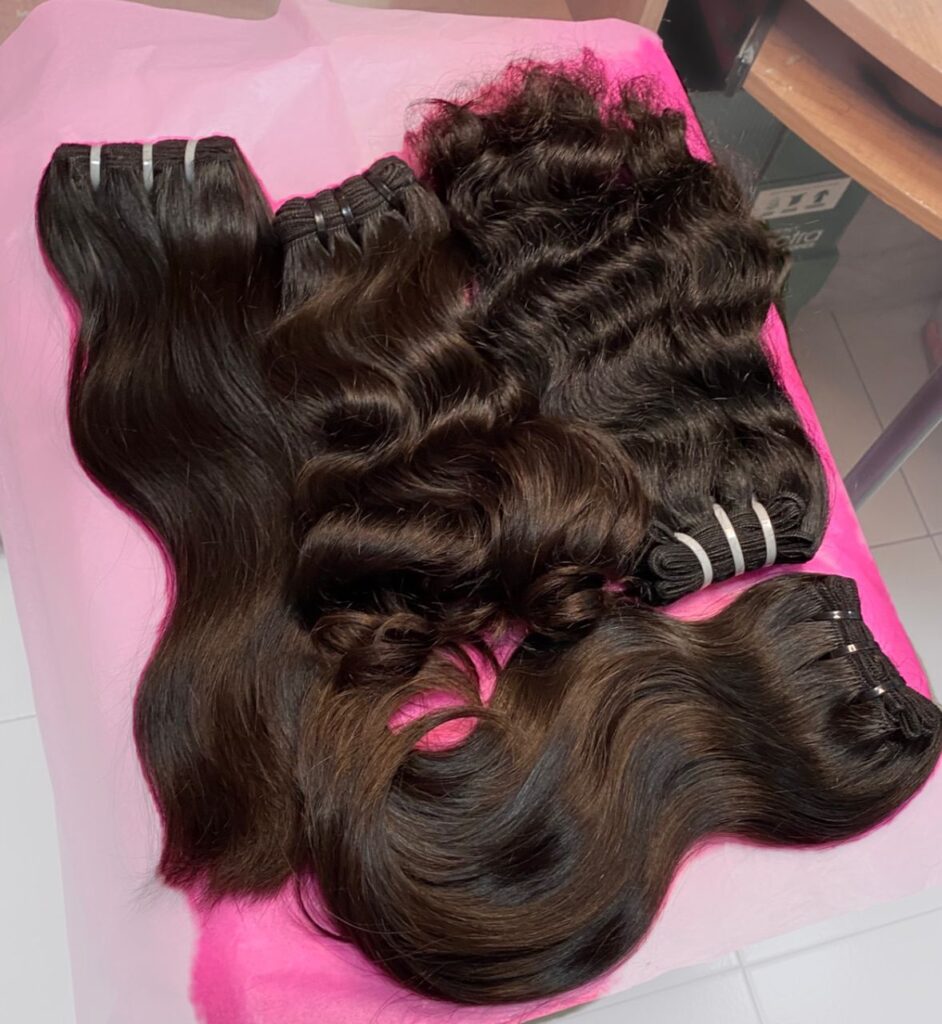 Combing/Brushing
When it comes to real raw Indian hair knowing how to brush it the right way can help prevent breakage and damage. It can also keep your hair silky, and free of tangles. Do wet hair combing only for raw curly hair whereas other textures can be combed when dried. We can use our fingers to run through long hair. Apart from combing our hair, we must also start brushing it regularly so that once you're able to do that on daily basis, our hair will be much cleaner and you will always be ready to style your hair for the day. Use a wide-tooth comb irrespective of any hair length or texture. Gently and slowly brush by starting at the bottom of your hair and gradually working up to the middle and then the top end of the hair without doing a lot of pull or tug.

AVOID
Hair Gel and setting spray
Harsh chemicals
Applying too much heat
Hot air Blow-dry
Sulfate or alcohol mixed hair products
Perming creams
Going to bed with wet hair
If you are looking for the best raw Indian hair vendors we are right here to assist you! South India's biggest hair factory Sri Sai ram hair industries provide the best quality raw Indian hair!!
We have 50000+ happy customers across the world.